April 10-11, 2021
Offered by the American Bladesmith Society, Inc.
Hosted by Texarkana College, Bill Moran School of Bladesmithing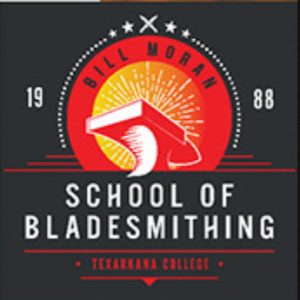 Journeyman and Master Smith Testing will be held during this Hammer-In. 
Saturday the 10th of April at 7 am Journeyman Smith testing will begin, Mike Williams, head judge.
Sunday morning April 11th at 7 am, Greg Neely will head up the Master Smith testing
Click here for complete details on the April testing, read Steve Dunn's announcement!
The Spring Piney Woods Hammer-in, at the W. F. Moran School of Bladesmithing in Washington, Arkansas, is an event that every bladesmith, from the rankest beginner to the experienced Master Smith, should mark on his calendar. For one thing, the timing is just right for those smiths planning to test for either a JS or an MS at Atlanta in June to bring their test knives and have an experienced judge look them over and critique them. Everyone of the demonstrators for this hammer-in is an experienced judge who has served on a review panel at either San Antonio or Atlanta within the recent past.
Schedule

Saturday, April 10, 2021
7-8 am         

Journeyman Smith Judging with Mike Williams

8:30-9 am     

Welcome and Introductions

9-10:30 am   

Blade Forging – Jim Crowell
Handles and Guards – James Rodebaugh
Forging Hammer Styles – Brion Tomberlin

10:30-12       

Ribbon Forge Construction – Don McIntosh
Pin Work & Tooling – Greg Neely
Damascus – Bill Wiggins

12-1:00 pm     

LUNCH ON YOUR OWN

1-2:30 pm     

Blade Grinding – Jim Crowell
Dovetailed Handles – Mike Williams
Folder Design – Steve Dunn

2:30-4 pm     

Forged Tomahawk – Butch Sheely
MS and JS Standards – Neely & Williams
Hand Finishing Blades – Tim Potier

4-5 pm         

Auction – Please bring things to donate
There will be a drawing for a custom knife at the Auction. All paid attendees are eligible.
Sunday, April 11, 2021
8:30 am

Master Smith Judging

10 am

Advanced Damascus patterns – Jams Rodebaugh
Blade Geometry & Sharpening – Brion Tomberlin
Heat Treating – Tim Portier

11 am

Round Table Discussion – Instructors

12 noon

Award Ceremony and Closing
This ABS YouTube Channel video was filmed at 2014 Spring Piney Woods Hammer-In.
Location:
2500 North Robison Rd., Texarkana, TX 75599
For more Information Contact:
Mike Williams, Piney Woods Hammer-In Director, at (580) 420-3051 for more information or email hforge@pine-net.com
Registration Fee: $60
Click on the Pre Register button above or contact Cindy Sheely, ABS Store Manager at cindy@americanbladesmith.com or (419) 832-0400
Hotels:
Holiday Inn
Texarkana Arkansas Conv Ctr
5200 Convention Plaza Drive, Texarkana, Arkansas
71854 United States
Reservations – 1-888-HOLIDAY
Front Desk – 1-870-2162000
2.99 mi from destination
Candlewood Suites
2901 S. Cowhorn Creek Loop, Texarkana, Texas
75503 United States
Reservations – 1 877 CANDLEWOOD 877-226-3539
Front Desk – 1-903-334-7418
1.2 mi from TC
Holiday Inn Express & Suites
5210 Crossroads Parkway, Texarkana, Arkansas
71854 United States
Reservations – 1-888-HOLIDAY
Front Desk – 1-870-216-0083
3.13 mi from destination
Country Inn & Suites by Radisson
1918 University Avenue, Texarkana, TX, 75503
866-925-7881
Comfort Suites Texarkana
215 Richill Dr, Texarkana, TX, 75503
866-925-788
Hilton Garden Inn Texarkana
2910 S Cowhorn Creek Loop, Texarkana, TX, 75503,
866-925-7881
Hampton Inn & Suites Texarkana
4601 Cowhorn Creek Rd, Texarkana, TX, 75503
866-925-7881
1.3 MILES
Econo Lodge Texarkana I-30
4505 N Stateline Ave, Texarkana, TX, 75503
866-925-7881
4.3 miles to TC
Courtyard by Marriott
5001 N Cowhorn Creek Loop, Texarkana, TX, 75503
866-925-7881
1.8
Residence Inn by Marriott
3900 St Michael Dr, Texarkana, TX 75503
(430) 200-0742
Fairfield Inn & Suites by Marriott
4209 Mall Drive
Texarkana, TX
2.1 miles from TC
Best Western Inn & Suites
5219 Cross Roads Parkway
Texarkana, AR
5.3 miles from TC