July 9-11, 2021
Offered by the American Bladesmith Society
Hosted by New England School of Metalwork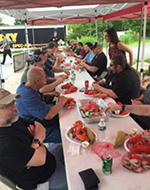 Hello ALL loyal Hammer-In goers,
We have not given up hope on holding our beloved get together. With some of the obvious conditions and potential dangers we face and are responsible for to have this event, we find ourselves to still be in a planning phase. Much has to be determined and put in place ahead of time to give you the event you know of and expect, therefore, we will make a determination by April 1
Stay safe, Be strong, Forge On !!  PENDING VIRUS CONDITIONS ??
For event information contact Dereck Glaser (207) 777-3375
Get your $65 Pre-Registration Fee in early. Register in the ABS Store or with Cindy Sheely, ABS Manager (419) 832-0400
Accommodation options – more can be found on our website under "Local Amenities and Accommodations"
-The Fireside Inn, (207) 777-1777, Washington St, Auburn, ME.
-Ramada Inn, (207) 784-2331,  490 Pleasant St., Lewiston, ME
Also plan to attend Demonstrators Dinner on Friday night. Lobster Bake purchase deadline is Saturday, noon.
Bring examples of your work for the knife show & auction
Knife Show Table fee is included in the Registration Fee
Registered Tail Gate Sales & Suppliers are welcome
Open Forge/Belt Grinding space very limited and based on safety dress code adherence(long pants and leather shoes)
Please mail registration form & check to the ABS or click here ABS Store or register through the ABS Store.