August 26 – 28, 2022
You are invited to the 17th Annual Mid-America Hammer In
Offered by the American Bladesmith Society, Inc.
& Hosted by the Southern Ohio Forge and Anvil Blacksmith Association
This Expo is for the knife enthusiast, knife collector and knife maker from beginner to Master.
Location: Miami County Fairgrounds, 650 County Road 25A, Troy, OH 45373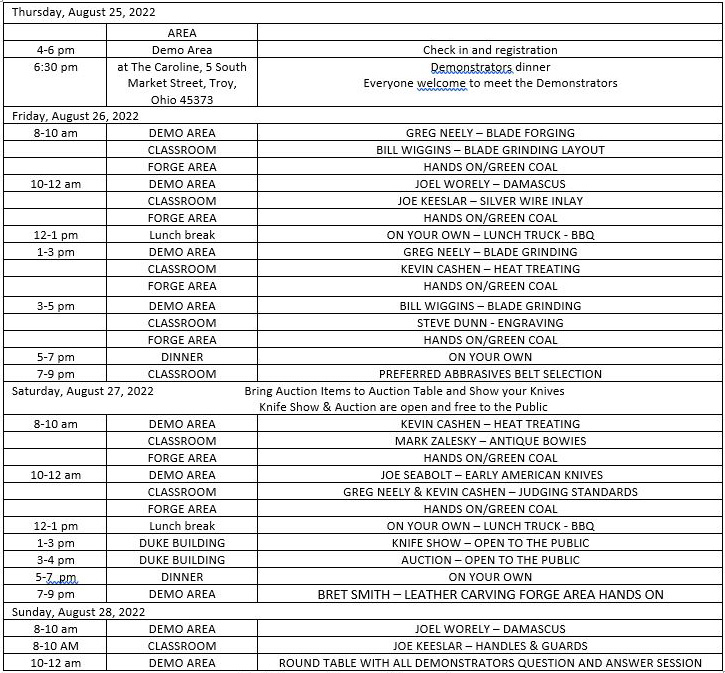 ---
Location: Miami County Fairgrounds
650 County Road 25A
Troy, Ohio 45373
Directions: Google Maps
Register online through the ABS Website Store by credit card. Getting your $65.00 Pre-Registration Fee in early gets all
your paperwork done and you badge will be ready.
You can also mail registration form & check to the ABS Store,
PO Box 160, Grand Rapids, Ohio 43522
or
register at the door for $75.00, all are welcome.
Pre-registration closes Monday,
August 22, 2022.
The knife show table fee is included in the Registration Fee.
You must be a registered participant to have a table to show knives.
— Registered Tail Gate Sales & Suppliers are welcome —
PLEASE VISIT THE VENDORS AND SUPPORT THEM
For more Information Contact:
Butch Sheely, Mid America Hammer-In Director at telephone 419-308-3471 or email [email protected]  for more information
---
Accommodations:
– Electrical Hook-ups & Primitive Camping, for a fee, washrooms & showers are available, no sanitary hook-ups.
Cost for electric hook up is $35 per night, cost for primitive is $12.00 per night.
-Motel 6, 937/335-0021, 1260 S Dorset Rd, 1-75 exit 73 East to Dorset Rd on left
-Royal Inn, 937/335-0013,1210 Brukner, 1-75 exit 73 East to Archer Dr. turn right just before Waffle House
-Budget Inn, 1330 Archer Dr. Troy, OH 45373• (937) 339-6564
-Americas Best Value Motel, 937-339-7957, 30 Troy Town Dr. 1-75 exit 74 West turn left on Troy Town Dr.
-Hampton Inn Troy, 45 Troy Town Dr. Troy, OH 45373• (937) 339-7801
-Holiday Inn Express, 937/332-1700, 60 Troy Town Dr. 1-75 exit 74 West turn left on Troy Town Dr.
-Residence Inn by Marriott, 937/440-9303, 87 Troy Town Dr. 1-75 exit 74 West turn left on Troy Town Dr.
-Comfort Inn Troy, 937/552-2622, 1800 Towne Park Dr., 87 Troy Town Dr. 1-75 exit 74 West
-Fairfield Inn & Suites by Marriott Dayton Troy, 83 Troy Town Dr. Troy, OH 45373• (937) 332-1446
-Super 9 Motel, 30 Troy Town Dr. Troy, OH 45373• (937) 339-1515
-Travel Lodge Tipp City, 937/667-2481, 1100 W Main, 1-75 Exit 68
– Baymont Inn Piqua, 937-615-0140, 950 E Ash St, Piqua, OH 45356
– Comfort Inn, Piqua, 937-778-8100, 987 E. Ash St., Miami Valley Centre Mall, Piqua, OH, 45356 (New)
[/fusion_text]