[Sticky]

Apprentice Pictures
Number three in the books. Blade actually came out how I drew it before I started forging, so that's a positive. Bolster slid down the handle during glue up, and I didn't notice. Palm swell may be a little too far back. But overall, feels comfortable. 
Posted : 21/10/2021 11:01 am
I Just joined ABS this month. I built a gas forge & a 2X72 grinder the summer of 2020. The summer of 2021 was my 1st attempt of making blades. The attached pictures are of a wakizashi forged of 5160 steel; with copper furniture that I made from old copper pipe.
Posted : 14/12/2021 10:41 am
Hi all, here is a photo of my latest, a 9" chefs knife with purpleheart handle scales and brass pins. The blade was forged from a rather large coil spring I found in a McDonalds parking lot of all places. Hopefully the new owner of this one will use it to make something a bit healthier.
Posted : 20/03/2022 10:39 am
Recent Knife I made(Gift for my Sister). I think this is my 12th Knife ever. 11.75" long, 2.125" wide Blade, India Rosewood scales, nickel pins. First real attempt at handsanding, I need to make some sanding blocks to say the least, and more grit varieties. This was forged from a bar of 5160, 1.5" wide bar stock. 
Posted : 06/07/2022 12:44 am
A few things from the last 6 months.
Edit: I think I got the link worked out.
Posted : 06/07/2022 7:19 pm
Hi everyone, 
I'd like to apologize now, I've never used a forum and I am fairly horrible when it comes to most things involving the internet. With that stated, I can't figure out how to post more than one photo at a time so I'll be doing some quick succession show and tell style posts. (9 Knives in 8 photos)
This (like all my blades) is made from 1084, it was the first attempt forging a blade and seemed fitting to be the first to get finished. Its has a forged mild steel guard, I tried hot punching it but that was less than successful. The handle is made from reclaimed oak and treated with boiled linseed oil and wax.
Posted : 22/09/2022 9:13 am
My early knives were forged as part of the Intro class at NESM last October (2021). For my second finished knife I did a purely stock removal approach on the guard (1/4" mild steel) and improved upon my handle shaping as best I could. The handle is from the same piece of reclaimed oak as my first knife and was given as a gift to my brother.
Posted : 22/09/2022 9:27 am
This is my first attempt at a chef knife, 1084 with a micarta bolster, olivewood handle and a thin copper spacer. After I passed this on to my friend, this picture, with the clearly visible sanding zones on the blade and the rectangular bolster and handle shape, really began to bother me. I plan on getting this knife back for some touch up work in the coming months.
Posted : 22/09/2022 9:36 am
This is a pair of "His and Her's" hunting knives. They would be the 4th and 5th knives I'd ever completed and the first full tang knives I had put handles on. The handle materials are kirinite with vulcanized paper liners and copper pins. The larger knife was forged with a specific large handed individual in mind, he loved it so much he got the regular one for his girlfriend.
Posted : 22/09/2022 9:51 am
Knife #6: Nessmuk Skinner, the S-guard was forged from mild steel then heat blued. The handle is Padauk with a copper pin, it is comfortable but I don't find it entirely aesthetically pleasing.
Posted : 22/09/2022 10:00 am
This clip point hunter was made during the Intermediate class at NESM April 2022 and marked my 7th completed knife. It has a stainless steel guard and stabilized walnut burl handle. The handle is a little on the heavy side but I find it comfortable and I was never planning on giving away/selling it.
Posted : 22/09/2022 10:07 am
This offset pairing knife was forged prior to my intermediate class and finished after. It wasn't planned out in the least and was more of a blow off steam kind of forging.
The handle is mahogany with a stainless steel bolster and copper spacer. This was my first knife finished in my home shop, start to finish.
Posted : 22/09/2022 10:12 am
Finally #9: Second knife completely in my own shop. Another clip point hunter, a lot less flare in the handle due to material constraints. The guard is stainless steel and brass, transitioning into a stained curly maple handle. 
Again, my apologies for not being able to figure out how to post more efficiently.
M. Bell
Posted : 22/09/2022 10:21 am
Some of my work
3rd Knife - first attempt at stabilizing wood
4th knife - tried my hand at casting pine cone scales
5th knife - going bigger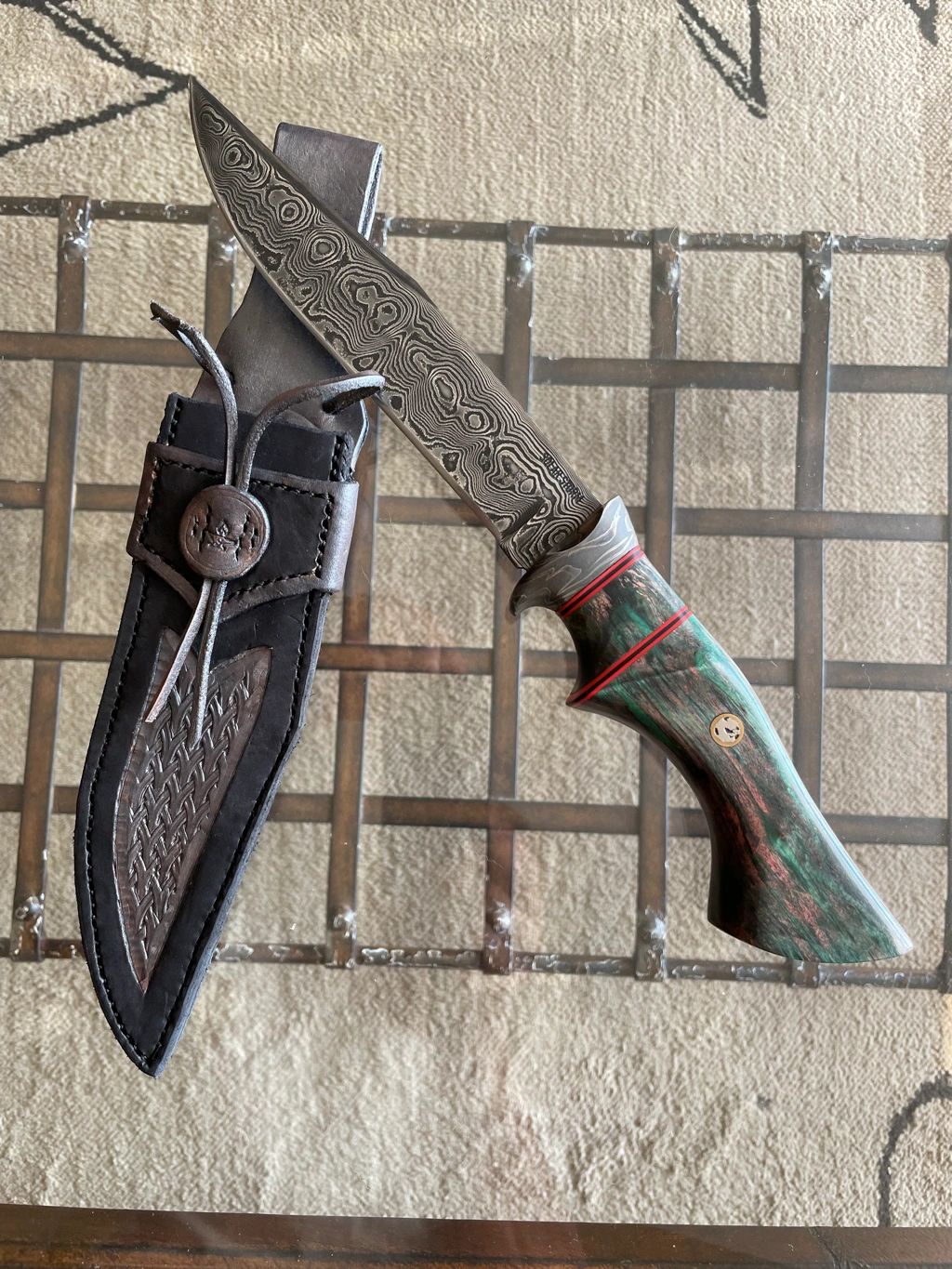 6th knife - experiment with everything. casting copper mesh scales 
7th knife - custom order using customers antler. First attempt at a damascus Cu Mai.
Honest Critiques welcome.
Posted : 18/10/2022 1:40 pm