---
Don Hastings Award
1986 Paul E. Burke, Jr.
1987 Margaret Moran
1988 Billy Ray Hughes
1989 C. Houston Price, J. Bruce Voyles, and Ken Warner
1990 W. F. "Bill" Moran, Jr. and Judge James Pilkinton
1991 Dr. Robert Johnson
1992 Hanford Miller
1993 Dr. Carl Nelson and Jeffrey Harris
1994 Al Williams
1995 E. Jay Hendrickson
1996 Jim Phillips
1997 James Powell
1998 David Etchieson
1999 Jerry Fisk
2000 Joe Drouin
2001 Steve Shackleford
2002 Dr. James Batson
2003 Johnny Perry
2004 Don Fogg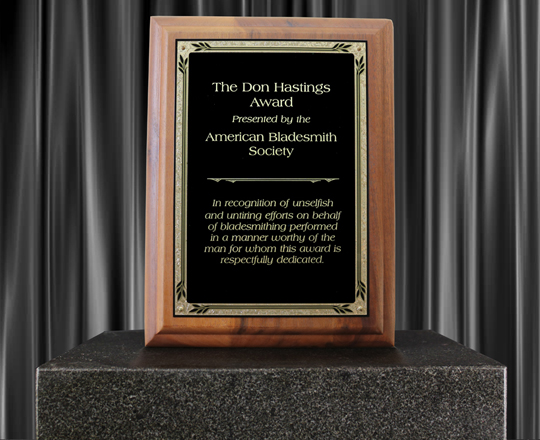 The most prestigious honor the ABS can award is given to an individual who has performed outstanding services on behalf of the forged blade in the tradition of the gentle founder, Don Hastings.
2005  Al Lawrence and Greg Neely
2006  Nancy Hendrickson
2007  Arthur and Julia Britton
2009  Joe Keeslar
2011  Bert Gaston
2013  Dan Cassidy and Sally Gauvin Cassidy
2014  Mark Zalesky and Joe Keeslar
2016  Bill Wiggins
2017  Bob Calvert
2019  Kevin Cashen and Mike Williams
2021 B.R. Hughes and Don McIntosh
2022 Steve Dunn
---
William Wales Scagel Award
1998 Alfred Pendray
1999 Steve Schwarzer and Jerry Fisk
2000 Don Fogg
2001 W. F. "Bill" Moran, Jr.
2003 Dr. James Batson
2004 E. Jay Hendrickson
2005 Mike Williams
2006 Red St. Cyr
2007 Joe Keeslar and Don Hethcoat
2009 Bill Wiggins
2011 Kevin Cashen
2014 Dr. James Lucie, JS
2015 Heather & Kevin Harvey
2016 Kevin Cashen
2017 J.R. Cook and Tim Hancock
2018 James Crowell
2021 Mike Williams
2022 Dr. Jason Smith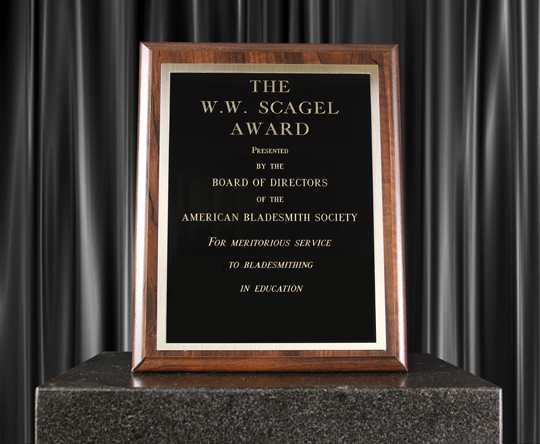 This award honors a Bladesmith for longtime service to promote the furtherance of education and knowledge of our craft. 
---
Margaret Moran Silver Slipper Award
2001 Margaret Moran
2002 Carolyn Hughes
2003 Nancy Hendrickson
2004 Jo Anne Perry
2005 Lora Sue Bethke
2007 Anne Walker
2008 Suzanne Keeslar
2010 Eva St. Cyr
2011 Julia Britton
2013 Gwen Dunn
2014 Sally Gauvin Cassidy
2017 Deborah Dean
2019 Cindy Sheely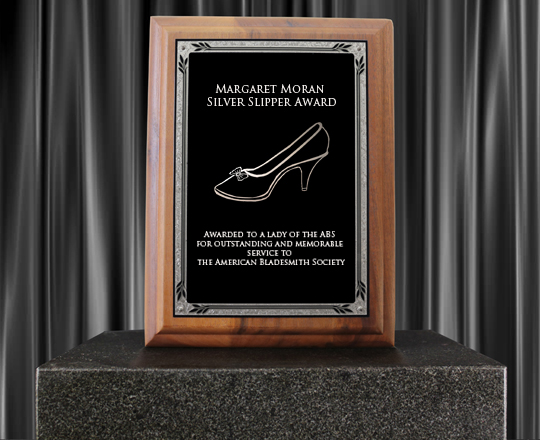 Awarded to a lady of the ABS for outstanding and memorable service to the American Bladesmith Society
---
Special Service Awards
Distinguished Service Award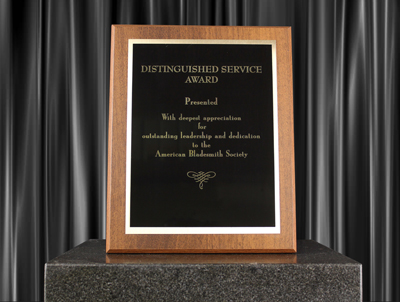 2009 Sally Cassidy and Dan Cassidy
2010 Daniel and Mitzi Warren
2011 Steve Culver, Brion Tomberlin and David Burnett
2012 J.R. Cook, Butch Sheely, and Mike Vagnino
2013 Eric Eggerly, Noria Ruth, and Butch Sheely
2014 Cindy Sheely, Steve Culver, Brion Tomberlin, Carolyn Hughes
2015 Mike Vagnino, Steve Cuver, Butch Sheely, Bill Wiggins
2016 Dan Petersen, Cindy Sheely, Carolyn Hughes
2017 Harvey Dean, Brion Tomberlin, Shanna Maust and Butch Sheely
2018 Ken Hall, Shane Maust and Mike Williams
2019 James R. Cook, Karl Anderson, Deborah Dean and Carolyn Hughes
2021 Kevin Harvey and Brion Tomberlin
2021 Carolyn Hughes and Greg Neely
2022 Carolyn Hughes, Allen Newberry, Butch Sheely
ABS Chairman Award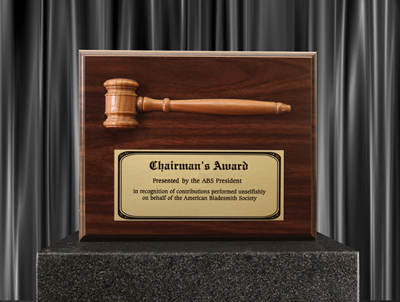 2010 Dr. James Batson, J.R. Cook, Thelma Gaston, Dickie Robinson, and Jean-Paul Theriault
2011 Carl Hallenbeck, Don McIntosh, Chuck Ward, Eric Eggerly, Jim Cooper and Kenny Rowe
2012 Dan Cassidy, Dan Petersen, Mike Williams, and Mace Vitale
2013 Steve Culver, Michael Vagnino, JR Cook, Mike Williams, Bill Wiggins, Mace Vitale, BR Hughes, Carolyn Hughes and Houston Price
2014 Sally Gauvin Cassidy, Dan Cassidy, Steve Culver, Michael Vagnino, Mace Vitale
2015 Dr. Dan Petersen, Heather and Kevin Harvey
2016 Debra McKee-Bethke, Robert Wilson
2017 Karl B. Anderson, Ed Caffrey and Joe Keeslar
2018 Nick Rossi, Shane Maust and Kevin Cashen
2019 Alex Whetsell, Bill Ruble and Jim Crowell
2021 James Rodebaugh, Greg Neely, Bill Wiggins
2022 Kevin Cashen, Butch Sheely, Dr. Jim Batson
President Keesler's "Big Hammer Award"
2016 Suzanne Keeslar
2017 Kevin Cashen, Jim Rodebaugh and Jim Crowell
---
Paul Burke Award
---
Awards Of Excellence
George Peck/Joe Keeslar Award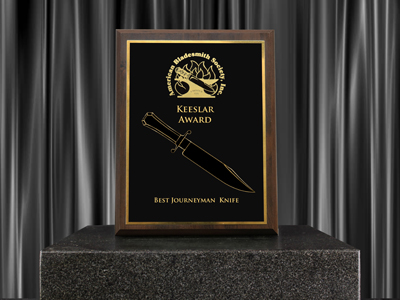 1994 Christopher Deringer
1995 Ken Trisler
1996 Jim Jackson
1997 Wade Coulter
1998 Ron Newton
1999 Bailey Bradshaw
2000 Bill Herndon
2001 James Rodebaugh
2002 Russ Andrews
2003 Jon Christensen
2004 John White
2005 Tommy Gann
2006 Rodrigo Sfreddo
2007 Nick Wheeler
2008 Fuad Accawi
2009 Kyle Royer
2010 Michael Ruth, Jr
2011 Haley DesRosiers
2012 Michael Diebert
2013 Sam Lurquin
2014 Ben Breda
2015 Wess Barnhill
Joe Keeslar Award
2016 Eduardo Berardo
2017 Chin Wei Chang
2018 Jordan LaMothe
2019 Jackson Rumble
2021 Karis Fisher
2021 Thaddeus Stager
2022 Fabio Barros
B.R. Hughes Award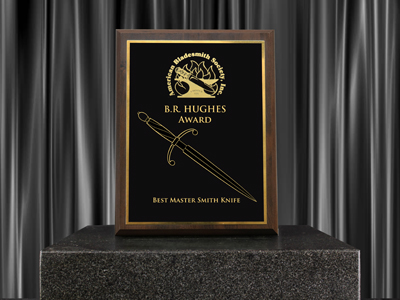 1995 Roger Massey
1996 Ed Halligan
1997 Don Fogg
1998 J.D. Smith
1999 Wade Coulter
2000 Ron Newton
2001 Bailey Bradshaw
2002 Tim Foster
2003 Kevin Harvey
2004 Ken Durham
2005 John Perry
2006 Jon Christensen
2007 Jason Knight
2008 Shawn McIntyre
2009 Rodrigo Sfreddo
2010 Michael Rader
2011 Adam DesRosiers
2012 Daniel Warren
2013 Aaron Wilburn
2014 Mike Quesenberry
2015 Andrew Meers
2016 Scott McGhee
2017 Samuel Lurquin
2018 Dionatam Franco de Souza
2021 Jordan LaMothe
2022 Neels Van Den Berg
Judge James Pilkinton Award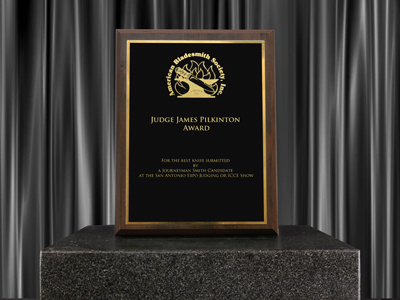 2012 Alex Daniels
2018 Robert Earhart
2021 Karis Fisher 
Dr. Carl Nelson Award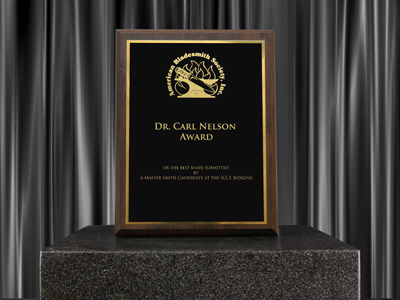 2019 Shayne Carter
2021 Josh Fisher
W.F. "Bill" Moran, Jr
Award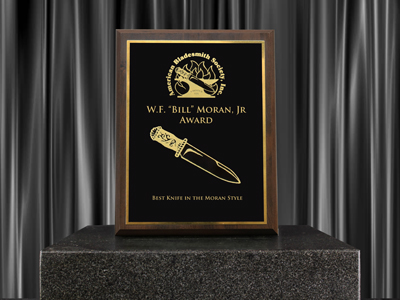 1988 James Crowell
1989 Charles Ochs III
1990 Jerry Fisk
1991 Alfred Pendray
1992 Hugh Bartrug
1993 Joe Flournoy
1994 Keith Batts
1995 Jerry Fisk
1996 Dan Peterson
1997 Tim Hancock
1998 Harvey Dean
1999 Red St. Cyr
2000 Wade Coulter
2001 Mark Sentz
2003 Ron Newton
2004 Ken Durham
2005 James Rodebaugh
2007 John White
2008 Jason Knight
2009 Kyle Royer
2010 Tim Hancock
2011 Kyle Royer
2012 Timothy Potier
2013 Jay Hendrickson
2014 Aubrey Barnes, MS
2015 Raymond Rybar
2016 Steve Nuckels
2017 Ray Rybar
2018 Mace Vitale, JS
2019 Forest "Butch" Sheely, JS
2021 Doug Noren, MS,
2022 Matthew Parkinson
Antique Bowie Knife Association Awards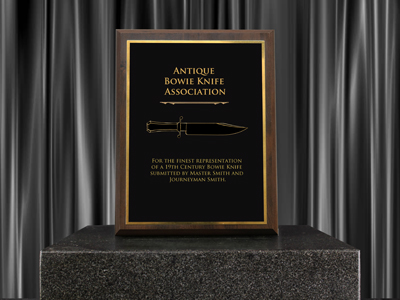 1995 Joseph Keeslar, Master Smith and Jim Walker, Journeyman Smith
1996 James Batson, Master Smith and Jim Walker, Journeyman Smith
1997 Tim Hancock, Master Smith and Wade Colter, Journeyman Smith
1998 Harvey Dean, Master Smith and Joe Szilaski, Journeyman Smith
1999 Harvey Dean, Master Smith and Ron Newton, Journeyman Smith
2000 Harvey Dean, Master Smith and Ron Newton, Journeyman Smith
2001 Harvey Dean, Master Smith, Ron Newton, Master Smith and Ken Durham, Journeyman Smith
2002 Harvey Dean, Master Smith and Ken Durham, Journeyman Smith
2003 Kevin Harvey, Master Smith and Billy Bob Sowell, Journeyman Smith
2004 Bailey Bradshaw, Master Smith and Billy Bob Sowell, Journeyman Smith
2005 John Perry, Master Smith and Billy Bob Sowell, Journeyman Smith
2006 Doug Noren, Master Smith and Lin Rhea, Journeyman Smith
2007 Harvey Dean, Master Smith and Matt Diskin, Journeyman Smith
2008 John Perry, Master Smith, Matt Diskin, Journeyman Smith and Jerry Van Eizenga Journeyman Smith
2009 Doug Noren, Master Smith and Jerry Van Eizenga, Journeyman Smith
2010 Jim Batson, Master Smith and Kyle Royer, Journeyman Smith
2011 James Batson, Master Smith and Butch Sheely, Journeyman Smith
2012 James Batson, Master Smith and Jerry Van Eizenga, Journeyman Smith
2013 Doug Noren, Master Smith and Butch Sheely, Journeyman Smith
2014 Doug Noren, Master Smith and Butch Sheely, Journeyman Smith
2015 Doug Noren, Master Smith and Mace Vitale, Journeyman Smith
2016 Timothy Potier, Master Smith and Butch Sheely, Journeyman Smith
2017 Harvey Dean, Master Smith and Mace Vitale, Journeyman Smith
2018 Doug Noren, Master Smith and Butch Sheely, Journeyman Smith
2019 Tommy Gann, Master Smith and Mace Vitale, Journeyman Smith
2021 Doug Noren, Master Smith and Butch Sheely, Journeyman Smith
2022 Doug Noren, Master Smith and Mace Vitale, Journeyman Smith
---
Honorable Works
ABS Journeyman Smith Knife of the Year
1997 Bill Fiorini
1998 Red St. Cyr
1999 Raymond Smith
2000 Ed Caffrey
2001 Boyd Ashworth
2002 Charles R. Robinson
2003 Terry Vandeventer
2004 Robert Rossdeutscher
2005 David Mirabile
2006 Billy Bob Sowell
2007 Rusty Polk
2009 J. Neilson
2010 Brian Thie
2011 Nick Wheeler
2012 Karl B. Andersen
2013 Ralph "Bud" Richards
2014 Ken Hall
2015 Peter Crowl
2017 Matthew Parkinson, Bruce Barnett-Folder
2018 Greg Keith and Barry Coldfelter
2019 Russell Roosevelt
International Journeyman Knife of the Year
2018 Neels van den Berg
2019 Chris Wu
ABS Master Smith Knife of the Year
1990 Steve Schwarzer
1991 Jim Crowell
1992 Alfred Pendray
1993 Jerry Fisk
1994 Dan Petersen
1995 Larry Fuegen
1996 Charles Ochs
1997 Wayne Goddard
1998 Harvey Dean
1999 Greg Neely
2000 Almon Barton
2001 Bruce Fuller
2002 David Anders
2003 Don Fogg
2004 Bill Dietzel
2005 Joe Flournoy
2006 Gary Anderson
2007 James Walker
2008 John Perry
2009 Steve Culver
2010 Mike Williams
2011 Red St. Cyr
2012 Jon Christensen
2013 JR Cook
2014 Brion Tomberlin
2015 Doug Noren, MS
2017 Dr. Dan L. Petersen
2018 Jerry Vandeventer
2019 John Horrigan
ABS International Master Smith Knife of the Year
2015 Kevin Harvey
2017 Jean Louis Regel and Veronique Laurent
2018 Sam Lurquin
2019 Dionatam Franco De Souza
ABS Master Folder of the Year
1998 Michael Conner
1999 Daniel Winkler
2000 Howard Clark
2001 Don Hethcoat
2002 Rick Dunkerly
2003 Tim Hancock
2004 Roger Massey
2005 Mark Sentz
2007 James Rodebaugh
2008 Michael Vagnino, Jr.
2012 Joseph Szilaski
2013 Jerry Lairson
2014 Daniel Warren
2015 Steve Dunn, MS
2018 Andrew Meers
International Collaboration Knife of the Year
2010 Brion Tomberlin, Lin Rhea, and Rodrigo Sfreddo
2012 Adam DesRosiers, Sam Luriquin, and Gustaff Van Bellegen
2015 Haley DesRosiers, Audra Ddraper