ABS Webmaster at americanbladesmith.com

Introduction to Bladesmithing – June 21-July 2 – Tuition: $1,400
Instructor: Scott McGhee
Class will be from 8am – 5pm, M-F, with a 1-hour break for lunch. The shop will not be available to bladesmithing students on the weekend nor after hours.Tuition is inclusive of instruction, use of the shop & tools, and materials. There is no additional fee payable to VIB. Lodging and food are each student's individual responsibility.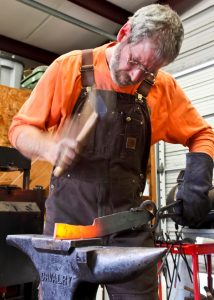 Click here to sign up for this class – only 4 spaces left
The Virginia Institute of Blacksmithing is the only Artist Blacksmithing School certified to operate by the State Council for Higher Education of Virginia. The school is located in Waynesboro, VA near Interstates 64 and 81. We have just added our bladesmithing studio and are proud to announce that we are offering the ABS approved bladesmithing curriculum.
CONTACT INFORMATION
Mailing address: 178 East Side Highway, Waynesboro, VA 22980
Location: 200 West Twelfth St., Waynesboro, VA 22980
Phone: 434-960-9718
email: info@vablacksmith.org
Website: VAblacksmithing.org