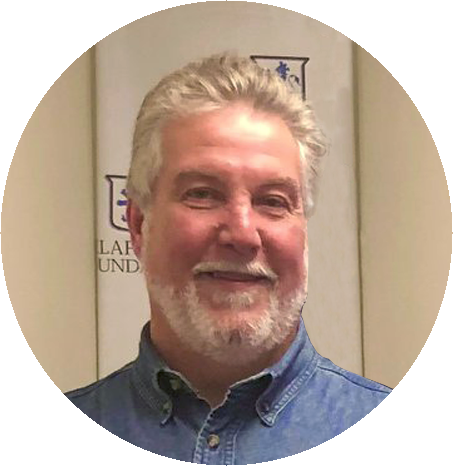 Robert Wilson
Biographical Info
Living in the same valley as Bill Moran you would think that I had a front door to the great Master, but to me he was the local guy you took your kitchen and butcher knives to be sharpened. All of that change when I read "Master of the Forge". I suddenly realized that this was not just the guy next door…the rest, as it is said, is history.
Being an Auctioneer, I had asked Mr. Moran if I could help at his Hammer-In's and I was able to provide this service to him. After his passing I contacted Jay Hendrickson about Bill's Estate and asked if I could be of service to him. I did end up conducting Bill's Personal Property auctions at both his residence and the shop. When the opportunity came to be a "Life Charter Member" in 2008, I jumped at the chance. Within a couple of years I received a call from Jay asking if I would be willing to serve on the BOD of "The William F. Moran Jr. Museum & Foundation, Inc." What an honor and privilege and of course I said yes. Sometime in the middle of 2014 I received once again another call from Jay, this time informing me that Vice-President Jonny Perry was stepping down and would I consider taking the position? Little did I realize that in less than 2 years Jay would again call and ask that I take over the position of President of the Foundation? My first thought was how would this look a non-knife maker being President of the Moran Foundation? I still think about that even now, but I consider it an honor and a privilege to serve as I do on the ABS Board.
My background is in the aviation field for 30 years, as a mechanic, lead mechanic, Inspector and then as Supervisor for a commercial landing gear division. My auctioneering career started shortly after my aviation career started and worked both side by side, adding to this was getting my Maryland Real Estate Salesperson License and then my Associate Brokers License. I am blessed to be married to my best friend (Debbie) we have two adult sons and live on my wife's family farm that we purchased in Myersville Maryland.
Robert is an Associate Broker for Maryland Real Estate Group GRI, SRES, ABR and an Auctioneer & Personal Property Appraiser. He is the President of the Willilam F. Moran Jr. Museum & Foundation, Inc.
Email Address [email protected]
Level Associate/Collector (5yr)
Address
Phone Number (240) 344-3573
Social Profiles
---