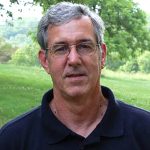 Bill Buxton
Biographical Info
I started making knives as a hobby in 1991 using the metal removal method. A few years later I became fascinated with the art of forging; there was just something about taking a plain piece of steel and turning it into a working knife using fire and a hammer. I quickly became hooked on forging and one thing led to another. There wasn't a great deal available in information that I could find, but I kept searching and looking for ways to further my knifemaking desires. Then on the internet I located others that had the same passions for knifemaking and we began corresponding through e-mails and phone calls.
The people I've met over the years have been very generous in sharing their knowledge about every aspect of the profession and friendships have grown with some of the finest knife makers from all over the country. My tools were pretty primitive by today's standards but as time went along I continued to upgrade. I kept gaining more knowledge from others and by a lot of trial and error.
Then in 1999 I became a full time bladesmith and the passion for making knives is as strong as ever. It's been 19 years since I started this journey and it's been the best job I ever had. About 95% of all my blades are hand forged and I work with several different high carbon steels: 52100, W-2, 1080, 15n20, O-1 and a couple different powdered metals. I make my own Damascus and mosaic Damascus and I use nothing but the finest materials available. I also do all my own heat treating.
I belong to the American Bladesmith Society and the Arkansas Knifemakers Association and in 2009 and I won the "Best Fighter" award at the Arkansas Custom Knife Show. I welcome all inquiries and the opportunity to make you a custom Buxton knife.
Bill Buxton, ABS Mastersmith
Email Address bilbuxtonknives@gmail.com
Level Master Bladesmith (1yr)
Website http://www.billbuxtonknives.com/
Business Name Bill Buxton Knives
Address 155 Oak Bend Rd Kaiser 65047-2101 MO United States
Phone Number (573) 348-3577
Social Profiles
---