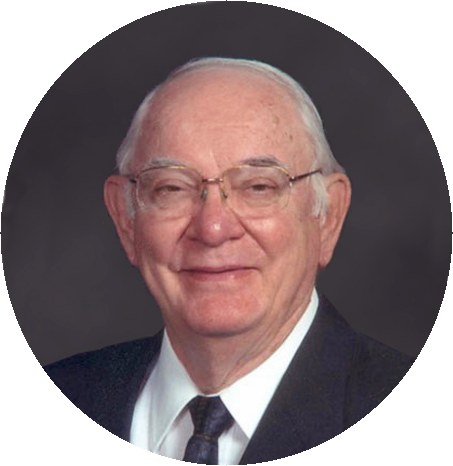 Bill Hughes
Biographical Info
Billy Ray Hughes was born in El Dorado, Arkansas, Feb. 14, 1932. His father was a veteran of the Mexican Border campaign and World War I, and his mother had once been the queen of the Hempstead County, Arkansas, watermelon festival.
After graduating from El Dorado high school, he enrolled at Henderson State University in Arkadelphia, Arkansas, where he lettered in baseball, was editor of the college newspaper and assistant editor of the Henderson yearbook, and was active in the drama productions stated by the school. He graduated in 1954 with majors in history and literature and a minor in speech and drama.
He began his teaching career in Huttig, Arkansas, where he met Carolyn, his wife, who is currently the editor of The ABS Journal. Over the next decade, he taught and coached at several Arkansas high schools before joining the Texarkana College staff in 1965 as Director of Public Relations. He retired from the college in 1995 after having served over 25 years as Dean of Students. During this time span he also served as Commissioner of the Northeast Texas Junior College Baseball Conference, President of the Texas Junior College Dean's Association, on the National Health Council, and on the Advisory Council of the American Red Cross.
B.R. began his writing career in 1951 as a reporter on the EL Dorado Daily News, and later wrote for the Arkansas gazette and the Monroe Morning World. He launched his outdoor writing career in 1961, and had material published in Guns, Gun World, The American Rifleman, etc. His first knife related articles were published in Gunsport in 1966 and a bit later in Gun World. His first book on knives, American Handmade Knives or Today, appeared in 1972, and a year later, in conjunction with Jack Lewis, Hughes co-authored The Gun Digest Book of Knives. Over the years, he has authored or co-authored five books and over 500 magazine articles on knives.
In 1976, he became one of the four founders of the American Bladesmith Society, and since 1984 has served the society as secretary. He received the Knife makers Guild's Nate Posner Award and the ABS Don Hastings Award, and has been named to Blade Magazine's International Hall of Fame and the American Bladesmith Hall of Fame.
B.R. and Carolyn have two children, Barry and Lee Ann, and two grand-children, Cody and Cale. Both are elders of the Presbyterian Church, and both are active as demonstrators at a number of weekend hammer-ins.
Email Address [email protected]
Level Associate/Collector (5yr)
Address
Phone Number (903) 838-0134
Social Profiles
---