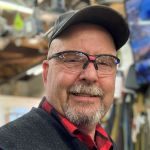 Ed Caffrey
Biographical Info Full time Bladesmith, offering forged cutlery, from User grade to Investment/Presentation grade pieces.  Hunters, Bowies, Fighters, Camp knives, Tomahawks, and Folders.  Prefers natural handle materials.  Offers carving, texturing, and engraving.  Also offers one-on-one Bladesmithing/Knifemaking classes.  Hosts an internet forum, and a weekly knife chat room at the above listed URLs.
Email Address [email protected]
Level Master Bladesmith
Year Awarded MS 2000
Business Name "The Montana Bladesmith"
Address 2608 Central Ave W Great Falls 59404 MT United States
Phone Number (406) 727-9102
Social Profiles
User Gallery
---