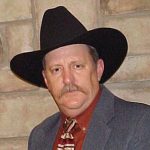 James R Cook
Biographical Info
I received my Masters rating with the ABS in 1991. My work has been featured in most all knife-related publications here in the U.S. and some abroad. I am an instructor at the Bladesmithing School at Old Washington, Arkansas.
I am a full time maker and I do enjoy teaching knife making as well.
My work has received several awards from best utility hunter to Arkansas Living Treasure. I have some of the awards posted on my site under the show events page at the bottom if you would like to skip over and take a look.
I have started trying my hand at carving on the knife handles as you can see on some of my work. There are some examples of the carvings on the ALT page of my site.
 I have sole authorship of the work on my knives and all of the work is by my hand. I enjoy making the larger knives like Bowies or camp knives although I do make a lot of hunters for you guys that like them.
I hope you will take a look at my site. Or come by and see me at some of the shows that I attend.
J.R. Cook, Mastersmith
Email Address jr@jrcookknives.com
Level Master Bladesmith/ABS Instructor
Year Awarded MS 1991
Website https://www.jrcookknives.com
Business Name JR COOK KNIVES
Address 455 Anderson Rd Nashville AR United States
Phone Number (870) 845-5173
Social Profiles
---