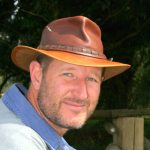 Kevin Harvey
Biographical Info
My interest in knives began at the age of 12. I was introduced to the craft by my late Grandfather who made knives as a hobby. The knifemaking bug bit me hard and I have never been able to give up the habit. Sounds like an addiction? It is! Knife lovers will understand and forgive me!
My knives are tested in the field as I enjoy camping, the outdoors, hunting and especially fly fishing. Africa is a tough place to test knives.
I completed a diploma in mechanical engineering and worked in a dynamite factory serving my apprenticeship as a fitter-machinist. I was accepted as a member of the highly-respected Knifemakers' Guild of Southern Africa in 1991. I am also a Master Bladesmith with the American Bladesmith Society and a founding member of the Southern African Bladesmiths Association.
My full-time knife career began in 1996 at Gold Reef City, (a re-creation of Johannesburg as a mining town 100 years ago). Here I met Heather, my wife, and we went on course together to the Texarkana College, Bladesmithing School in Arkansas, U.S.A. in 1998 to learn bladesmithing and damascus steel making. We taught at this school after receiving our Mastersmith ratings in 2001. 
We both love fly fishing and decided to combine our workshops and move to the country. Here at Heavin (Heather and Kevin) Forge in Belfast, only 2 hours east of Johannesburg, we can concentrate on making the most spectacular knives and have started a knifemaking school, presenting a variety of courses including the ABS approved two-week Intro to Bladesmithing course. Our facility is only the second outside of the U.S.A. with accreditation from the ABS.
Highly collectable art-knives are my specialty. I enjoy Bowies and daggers. I make my own damascus steel and make mainly forged knives. The materials I tend to prefer for knifemaking verge on old style traditional/classical. I am not really into high tech. I like to consider myself versatile and am forever trying something new and don't like repetition and getting stuck in a groove. I am constantly aware that every knife I create has the potential to be the treasured antique of the future. Africa offers some of the most beautiful handle materials in the world and I use hippo, warthog, indigenous hardwoods, leguaan skin, crocodile, catfish skull and any interesting horn or bone available. Each knife is a unique, one-of-a-kind creation, making it special to both me and its owner. I prefer to work on my own inspiration, as opposed to taking orders and directions from clients. The knifes I make are part of me. I love designing knives and reading every knife publication I can lay my hands on. Inspiration is everywhere! I do all of my own engraving and embellishment.
My knives are sold from my showroom at Heavin Forge, Belfast, South Africa and from my website, www.heavinforge.co.za. I exhibit at our annual Knifemakers' Guild of South Africa show. Please look at my "Gallery of Past Work" on my website, www.heavenforge.co.za to view a few of my favorite knives that I have made and sold.
I designed two self-defense folders which have been put into production by Boker in Germany. They are the Boker Plus B@t-Man and Boker Plus Baby B@t.
My most prestigious awards have been both the B.R. Hughes award for the "Best Knife Submitted by a Master Smith Applicant" and, also the "Best Bowie Knife submitted by a Master Blademsith". Both of these awards were at the Blade Show in Atlanta, Georgia, U.S.A. in 2003. In 2015 Heather and I received the "William Wales Scagel Award" by the American Bladesmith Society and the ABS "Chairman's Award (the Big Hammer award). Domestically I have won a number of awards, which reflect my style of work in categories such as Best Fighter, Best Dagger and Best Historical. One time I surprised the judges (and myself) by winning Best Art Folder, as at this state I don't make many folders. I have received the Best Knife Maker Overall awards at our annual Guild Show in South Africa in 2002, 2013 and 2016 as well as the Best Knife on Show in 2016, Best Dagger and Best Historical.  
Heather and I have demonstrated at Hammer-Ins in the U.S.A. and South Africa and recently at the SOFA Quadstate Roundup in Troy, Ohio, U.S.A. 
Email Address kevin@heavinforge.co.za
Level Master Bladesmith/ABS Instructor (5yr)
Year Awarded MS 2003
Website http://www.heavinforge.co.za
Business Name HEAVIN KNIVES
Address PO Box 768 Belfast 1100 Mpumalanga South Africa
Phone Number 2 (713) 253-0914
Social Profiles
---