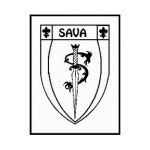 Sava Damlovac
Biographical Info
I make knives the old-fashion way, by hand! All my knives are one of a kind, designed and made by myself using files and sandpapers. Most of my work are investment quality fantasy, oriental, renaissance knives and daggers, made out of damascus steel with exotic fossilized ivory handles. I heat treat all my knives right in the shop, and use my very own forged damascus steel!
Some of my masterpieces are made with fossilized ivory handles that I've carved myself. Most of them have fitted rare wood boxes specially made for that knife, or a unique stand. I like to use natural materials for handles, but fossilized ivory's are my first choice for fine knives!
I also make working, hunting, fighting, and boot knives using 52100, 440-C, and ATS-34 steel. These come with custom fitted leather sheaths in any style desired, all made by hand!
Sava Damlovac, MS
ABS Master Smith
Email Address savaknives@gmail.com
Level Master Bladesmith (1yr)
Year Awarded MS 2003
Website https://savaknives.tripod.com/
Business Name Sava Knives
Address 10292 Bradbury Dr Indianapolis 46231-1910 IN United States
Phone Number (317) 839-4952
Social Profiles
---