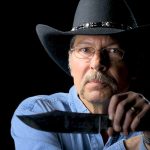 Steve Culver
Biographical Info
I started making knives in 1987, sold my first knife in 1989 and passed the American Bladesmith Society's Mastersmith test in 2007. I have been a full time knifemaker since March, 2004.  I am also a Master Gunsmith, but discontinued gunsmithing to devote myself to full time knifemaking.
I use 5160, 1084, W-2 or 1095 steel for my forged carbon steel blades. I make damascus steel blades from any of the carbon steels that I typically use, laminated with 15N20 or O-1 steel.  I use ATS-34 for the blades and springs of some of my folding knives.  Each blade is individually heat treated in my shop.
I prefer to use natural materials for most knife handles, but will use manmade materials for severe-duty knives.
The types of knives that I make include bowies, daggers, hunters, fighters and folders.  I enjoy making period type pieces and my favorites are 19th century English and American Bowies.
Guards are usually press fit, although some are soldered.
I can supply sheaths, made by me, for any of my knives.
Being both a knifemaker and a gunsmith, I have a strong interest in making combination (cut-n-shoot) weapons.  I have done extensive research on the making of spiral welded damascus gun barrels and have learned how to accomplish this work.  In 2013, I completed my first damascus barreled cut-n-shoot.  I intend to continue making combination weapons, each incorporating a spiral welded damascus gun barrel.
My knives are warranted against defects in workmanship for as long as I can work, as long as the knife is not abused. I cannot guarantee natural handle materials as they may fade, crack, chip, or shrink with use and climate change.
Making knives is a never ending adventure to me.  I can think of no other craft that provides an opportunity to work with so many different types of materials, or offers so many avenues for embellishment on an individual piece.  The quest to make a better quality knife and decorate it using a newly acquired skill, keeps the craft challenging and rewarding for me. 
I hope that you enjoy my knives as much as I have enjoyed making them.
Email Address [email protected]
Level Master Bladesmith/ABS Instructor
Business Name CULVER KNIVES
Address 5682 94th St Meriden KS United States
Phone Number (785) 230-2505
Social Profiles
---