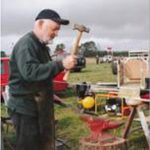 Thomas Gerner
Biographical Info
Working knives – utility and hunters, kitchen knives, barrel knives – from carbon steel and in Damascus generally with Australian hardwood handles.  I also enjoy making other edge tools.
I use various carbon steels but my favourite is L6. Most of my Damascus is modified random pattern, mainly from O1, 15N20, W2 and 5160 steels.
My thoughts on knife making are that a blade must be strong and well built to suit the purpose for which it is made. It must hold a good edge but also be easy to sharpen. A handle should be strong but first of all comfortable in the hand; thereafter I aim for visual appeal and an overall well balanced knife.
I make my own leather sheaths and occasionally, wooden sheaths for kitchen knives.
I do occasionally teach knife making courses and demonstrate at local shows and market days.
Email Address [email protected]
Level Master Bladesmith (5yr)
Year Awarded MS 2001
Business Name DEEP RIVER FORGE
Address Tinglewood Road Walpole 6398 Western Australia Australia
Phone Number 6 (189) 840-1016
Social Profiles
---