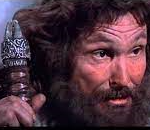 Joined: May 31, 2023
Last seen: Jun 24, 2023
I am originally from Moore, Oklahoma.  I spent 20 years in the Air Force as a Biomedical Equipment Repair Technician and retired from the Air Force in 2019. I have a BA in History from the University of Maryland and currently work Full-time as a Librarian.  Hopefully, once all of my kids are off to college I can ditch the Librarian thing and devote more time and $$$$ to Bladesmithing.
BMET (USAF Retired) / Librarian