The Forged Blade
Last Post Info
A place to post questions by those new to forging and bladesmithing.
Topics: 162

|

Posts: 1,163
This is a Forum to discuss forging methods and techniques.
Topics: 106

|

Posts: 987
Basic discussion of techniques in making pattern welded "damascus" steel blades.
Topics: 123

|

Posts: 1,116
Discussion of Grinding Techniques, Abrasives, Grinders, Sharpening and Blade Finishing.
Topics: 104

|

Posts: 1,061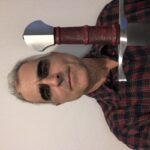 Discussion and questions about heat treating.
Topics: 209

|

Posts: 1,616