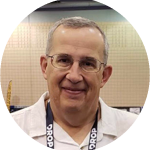 Joined: Feb 15, 2021
Last seen: Sep 16, 2023
I have been making knives for more than 35 years. I started out with stock removal and then moved into forging. I took the Introduction to Bladesmithing course about fifteen years ago under Bert Gatson and Jim Crowell. I received my JS in 2006 and my MS in 2009. I am also an instructor for the ABS and primarily teach at Texarkana College and the New England School of Metalwork. I have also been a JS judge and MS judge. My interest in blades are Japanese styles, bowie knives, and fighters. The majority of my blade will have some sort of Japanese influence. If you see me at a show or Hammer In, please introduce yourself.